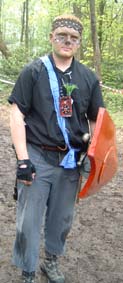 The March Against Mephias, 1105
Sharle Black

Last Position held within the Faction
No Position Held

Died:
The March Against Mephias, 1105

Group:
Primal Urge

Quote:
"Someone's stolen my shield."
More information on Person:


Sharle came to the mainland with Primal Urge in order to explore the wider world. At his second forrey from Beast Isle, he was given a shield by the Ancestor Narduk Nathneil which slowly corrupted his pattern. Although a ritual was performed in an attempt to save him, the ritual failed, and Sharle returned as a revenant to reap revenge on the Unicorn Faction.