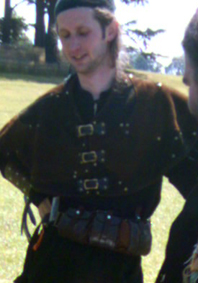 Ailwen getting Vadek to dedicate a pattern to him at the second Faction Moot, 1103
Ailwen DuPont

Last Position held within the Faction
Apprentice to the High Incantor

Died:
Gathering of Nations, 1105

Group:
The Hall of Champions

Quote:
"Vadek, I don't suppose I could trouble you to dedicate this dead thing
to me could you? No, I have no idea what it is, but it's not moving any more."

More information on Ailwen
A long-serving member of the Faction and Avatar of the Ancestor Tar'k'see, Ailwen died heroically, killed by a Balrog.